We have tried to gather all relevant information on projects for schools, kindergartens, institutions, colleges, etc. below.
We hope you find what you are looking for – if not, we are here to help.
NOORD works with schools and educational institutions across the country. Our creative and imaginative project managers and graphic designers are involved all the way from the first idea to the finished project. We actively participate in sparring about which solutions are most favourable for the individual school or educational institution.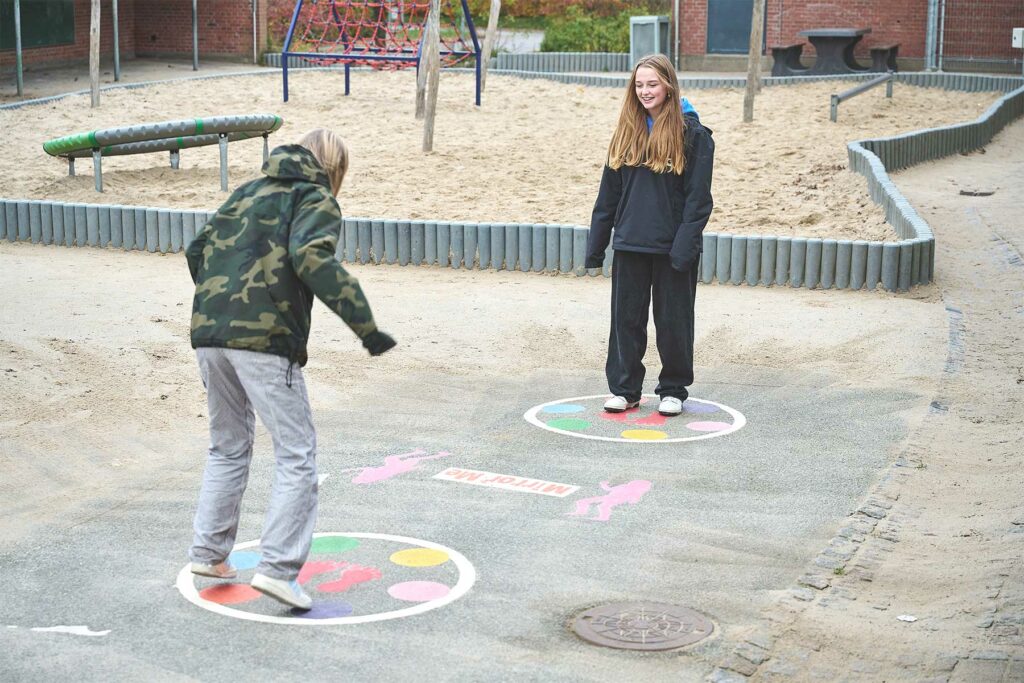 Alt til skoler, børnehaver og institutioner samlet ét sted
Inspirerende uderum gør læring til leg
NOORD har designet læringsspil til både indskolingen og udskolingen, som kan bruges som en del af undervisningen, eller i fritiden både i skolegården, offentlige parker eller bymidten.
If you want to create an active and healthy environment for the children at your school, contact us today for a no-obligation chat about your wishes, your school's current outdoor areas and your budget. We are available from idea to finished project, so you can ensure that all safety requirements are met, that all materials are of the highest quality with a long lifespan for the benefit of your school and with respect for your budget.
Tidligere samarbejdet med​
Create Inviting Outdoor Areas for Schools, Institutions and Universities that Promote Health and Encourage Physical Activity
When you choose outdoor fitness equipment from NOORD, you create an outdoor area with a welcoming atmosphere and a simple and stylish look, where schools can contribute to the health of their students by giving them easy access to physical activity.
Outdoor Fitness Equipment Encourages Physical Activity
Outdoor fitness equipment is a great way to promote physical activity and a healthy lifestyle in schools. When choosing outdoor fitness equipment for schools, it's important to consider factors such as safety, ease of use and the age of the pupils.
In primary schools, simple equipment such as jump boxes, pull-up bars, and monkey bars are suitable. This type of exercise equipment allows younger children to engage in physical activity in a fun and safe way.
In secondary schools, universities and colleges, more advanced equipment such as battle ropes, parallel bars, and TRX equipment are suitable. These types of equipment are more challenging and are suitable for older students who want to improve their physical performance while having hours of fun and socialising with friends.
A well-designed outdoor fitness area can promote social interaction and create a sense of community among students. This can be particularly useful for older students, who are more likely to engage in physical activity if they can do so with friends.
NOORD Outdoor Fitness Equipment is Available in 180 Different Colours and Requires Minimal Maintenance
One of the advantages of NOORD's Danish-designed outdoor fitness equipment for schools and educational institutions is that there are no moving parts that can be removed from the equipment, making it vandalism-proof. The durable anti-rust protection and powder coating ensure that the equipment does not rust and can withstand all weather conditions.
If there are deep scratches on the fitness equipment, theses can be repaired with a repair paint in the same colour and gloss, which is included in the delivery. All equipment is available in 180 standard RAL colours, making it easy to match the surroundings, architecture and environment. All equipment is available in 180 standard RAL colours, making it easy to match the surroundings, architecture and environment.
Outdoor Fitness Equipment in Schools and Educational Institutions can Help Promote Healthy Lifestyles
Adding outdoor fitness equipment to a project for schools and educational institutions is a great way to encourage children and young people to be physically active and lead a healthy lifestyle. If you are looking to create an active and healthy environment for children and young people in primary schools and on vocational training centres, contact us today for a no-obligation discussion of your needs. We are available from idea to finished project, ensuring that all safety requirements are met, all materials are of the highest quality, with a 10-year warranty and a minimal carbon footprint by incorporating NOORD equipment into your next project.
Read about NOORD's environmental certifications here.
Gør skolens udearealer inspirerende og flotte med produkter fra NOORD
Skolernes udearealer er en vigtig faktor når man skal skabe et aktivt og sundt miljø for børn og unge. Inspirerende udearealer kan være med til at give børnene lyst til at bevæge sig, lege og udforske deres omgivelser.
En farverig og indbydende skolegård kan gøre en stor forskel for børnenes motivation til at være aktive og selv tage initiativ til aktiviteter.
Ved at lave flotte legeområder med termoplast på asfalten kan man skabe et inspirerende miljø for børnene. Det kan være hinkeruder, cykelbaner og andre aktivitetsspil, der gør skolegården mere attraktiv for eleverne.
Skolernes udearealer skal være rummelige og give plads til forskellige aktiviteter, så børnene kan udfolde sig på deres egne præmisser. Det kan være multibaner med plads til boldspil, lege- og læringsspil, der kombinerer læring med sjov og socialt samvær i frikvartererne, mooncar baner, der opfordrer til sjov og leg med alt fra mooncars, cykler, løbehjul og rulleskøjter, samt udstyr til  klatring eller motion og steder, hvor børnene kan sidde og slappe af.
En god skolegård kan skabe social interaktion og øget fysisk aktivitet
En god skolegård kan også være med til at skabe social interaktion og samhørighed mellem børnene. Dette kan opnås ved at skabe fælles områder, hvor børnene kan mødes og lege sammen.
Leg- og lærings-spillene fra NOORD er et af vores mest populære produkter til skoler, da de udfordrer elevernes læring på en sjov og inspirerende måde, samtidig med at de giver socialt samvær og fysisk aktivitet i frikvarteret.
Se video og læs om alle spillene her
I det hele taget er det vigtigt, at skolernes udearealer er et sted, hvor børn trives og har lyst til at være. Det kan være med til at øge deres motivation for at være aktive og skabe en positiv fysisk og mental atmosfære. En skolegård med et inspirerende og indbydende miljø skaber liv og glæde hos børnene og kan være med til at fremme deres fysiske og mentale sundhed.
45 minutters fysisk aktivitet pr. skoledag er ikke noget problem med inspirerende udearealer
I dag stilles der krav til skolerne om at eleverne bevæger sig aktivt i 45 minutter pr. skoledag. For mange skoler er dette en stor udfordring, efterhånden som eleverne bliver ældre.
Hos NOORD har vi skabt unikke leg- og læringsspil til skolegården, som gør det attraktivt og sjovt at bevæge sig og være fysisk aktiv, samtidig med at man får frisk luft i skoletiden.
Til vores folkeskoler og institutioner tilbyder vi en bred vifte af udendørs aktivitetsspil, løbebaner og redskaber:
Leg- og læringsspil
Legepladser
Termoplast til skolegården
Cykelbaner og mooncartbaner
Motionsredskaber til de ældste elever
Løbebaner og atletikanlæg til skoler
Sportsbelægning til basketball baner, multibaner, panna baner mv.
Gummibelægning/ Faldunderlag til legepladser
Multibaner og pannabaner
Skab et multifunk- tionelt område med et hav af aktivitets-muligheder
For efterskoler, gymnasier, sportscollege og andre uddannelsesinstitutioner der ønsker at anlægge et helt område med aktiviteter på tværs af forskellige sportsgrene, har vi designet sportsanlæg der giver mulighed for:
Løbetest og løbetræning på 200 m løbebane
Forhindringsbane med varieret terræn og udvalgte forhindringer
Fitnessredskaber til crossfit og styrketræning
Atletikdiscipliner, såsom længdespring, løb og højdespring
Pannabane eller multibane til basket, fodbold, street hockey mv.
Læs mere om vores sportsanlæg til uddannelsesinstitutioner her
Vonsild skole går foran og viser, hvordan nytænkning skaber unikke udearealer
Se, hvordan en folkeskole i Kolding omdannede alle skolens udearealer til et kreativt og innovativt læringsrum med masser af aktiviteter for elever på alle klassetrin. Skolelederen nedsatte en tænketank af medarbejdere, som resulterede i en unik sammensætning af lærings- og aktivitetsområder på skolen til glæde for elever, lærere, SFO'en og byens borgere, som benytter de attraktive faciliteter udenfor skolens åbningstid.
Læs om Vonsild skole her